If you are like me and love "junking" then it's time to start planning which Vintage Shows you want to attend this year. To help get you started, below is a list of some of my favorites and ones my Sister and I are hoping to attend:
First up is
"Retreat Antique and Vintage Market"
April 28th 2012 in Anacortes, Washington. A must see show hosted by the very talented duo of Deb and Bob Kennedy. Check out their website for all the details. I attended their 2011 fall show and it was well worth the trip! Looking forward to attending again this year!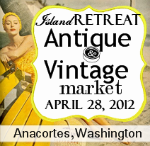 http://www.retreatvintagemarket.com/
Rust and Ruffles "A Vintage Market to Inspire"
May 11 & 12th, 2012 in Munroe Washington. Details yet to be posted so please keep checking their website for more information as it becomes available. I have never attended this show before, however I have heard really good things about their fall 2011 show so looking forward to attending their spring show.
"The Farm Chicks Antiques Show"
held annually at the Fairgrounds Spokane Washington
Saturday, June 2nd: 10am-6pm &
Sunday, June 3rd: 10am-4pm. General admission tickets will be offered for pre-sale from 3pm-5pm on Friday, June 1st, at the ticket windows at the fairgrounds. I have attended this very popular show twice before and it is an excellent show.
With approx. 200 vendors it offers something for everyone. Best to purchase a pre-sale ticket on the Friday before the show if you can or get there early Saturday morning of the show due to long line-ups as a well attended show.
Barn House Presents
"A Vintage Country Marketplace & Music Festival"
July 28th, 2012 Battleground Washington. I attended this show a couple of years ago and it was great! Came back with wonderful vintage inspired goodies! I heard that the show last year was even better so definately a priority on my list for this year! Keep checking their website for more details as they become available.
I'll post more shows as information becomes available. Hopefully I can find a few shows in our local area to attend as well!

Happy Junking,